CIRCULAR FILAMENT ERUPTION and CANYON OF FIRE: For days, astronomers have been monitoring a remarkable circular filament of magnetism on the sun. On Nov. 15th it erupted. This movie from NASA's Solar Dynamics Observatory shows the filament slicing through the sun's atmosphere, producing a 'canyon of fire'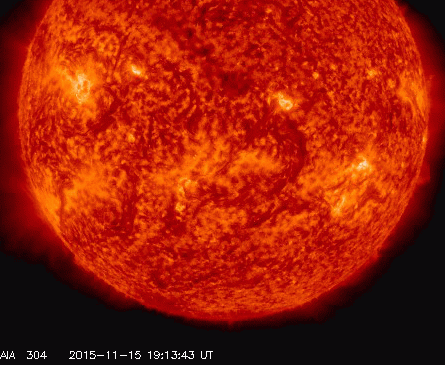 spaceweather.com
The glowing walls of the canyon trace the original channel where the filament was suspended by magnetic forces above the sun's surface. From end to end, the structure stretches more than 300,000 km–a
real
Grand Canyon.
Inky-black fragments of the filament
flew away from the blast site and formed the core of a CME. It is too soon to say whether the storm cloud is heading for Earth. We will know more in the hours ahead as coronagraph images of the CME become available.
Some are creating terror on our planet and forcing their ideals upon the many which in turn is touching us all. I look at this and wish I could fling the dark filaments from our earth. Could this be a message? They say the light diminishes the darkness. We must use our light within to dispel every thought of fear or hate with the most powerful force. . . LOVE
Another celestial image . . .at least to me and after another brutal soulless attack on innocence yesterday. It's depicted as a "vast hole," and it's going to send plasma winds to us by December 6, 2015. What do you see? I see an image of an angel or Archangel Michael with his sword of light or trumpet sliding toward our earth. Whatever you see OR don't; you can't deny things are changing on earth and so must we.